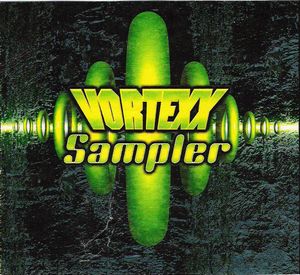 THE VORTEXX!!!
BIO:
THE VORTEXX STORY... 
THE VORTEXX is a group that specialized in Electronic Dance Music (EDM). 

Originally formed in 1995, a singer/songwriter/producer/multi-instrumentalist named JAYAR MACK meets an engineer/remixer/producer/midi programmer named JAMES FORBES by accident in a record store named Coconuts, in Marlton, NJ. 

So taken with each other's talent, they decided to join forces and set up shop in a brand new recording studio that FORBES was co-owner of called VORTEX SOUND RECORDING STUDIO in Berlin, NJ. 

FORBES recalls: "I was amazed at all the songs JAYAR had written and recorded before he met me, and yet he had hundreds more...good songs that needed to be recorded and presented sonically correct...so it basically went like this, I had the studio...and he had the songs." 

Not long after that they decided to form a music publishing company named JACODA MUSIC PUBLISHING CO. which was incorporated in 1999. 
So they recorded lots and lots of demos of JAYAR's songs, and even FORBES would get involved in the songwriting process, he being the son of famous NFL sports writer/best selling author GORDON FORBES. 

"We recorded a lot of songs for the first 7 years...some R&B/Soul, some POP, just about everything...then the dance music craze had a serious resurgence back in the mid-late 90's and we just started recording all of JAYAR's dance music in the hopes of getting a record deal in the genre..." FORBES reflects. "We got turned down by record companies, small independent labels...so we decided to form JACODA RECORDS to put out our own stuff instead..."
Fast forward to 2020, 25 years and hundreds of recordings later, FORBES & JAYAR felt the time was right to release these dance music recordings after having a surprise hit with the track "BLIND LOVE" by JAYAR MACK with THE VORTEXX in the UK where it went top 20 and had the biggest DJ in London, England spinning it in regular rotation on his radio show. His name: TONY BLACKBURN, legendary radio DJ in the UK and, by extention, the world. 

So be on the lookout for THE VORTEXX SAMPLER coming out in 2020 by...THE VORTEXX!!!